SHOWMASTER
time to
show off
vision
roboy loves to entertain you!
Roboy wishes to be more entertaining and impressive. With his new skills he is reliably able to attract people to its presence independent to their relation to him.
He appeals as well to an audience as to a group of developers, satisfying both of their preferences.
our goal
this semester we want roboy to …

Give Roboy more facial expressions
abstract
combining cognitive forces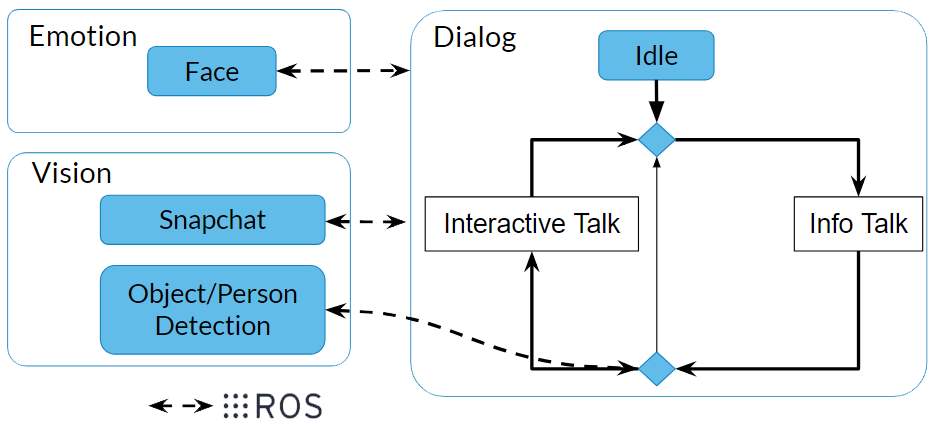 We are combining cognitive forces.
On a high level, the architecture looks like this:
Classify Object, vision for Snapchat, new generative model and more faces that enrich the interaction with Roboy have been implemented by us.
The new personality has two main modes, which iterate based on information from vision
In info talk, only Roboy is talking, trying to get people's attention.
In interactive talk, Roboy starts talking to a person which seems to be interested.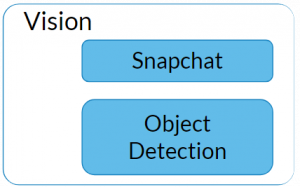 Snapchat can add filters to a users face. Results from object detection trigger the dialog system as shown before to switch between states.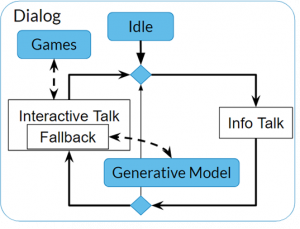 In detail, dialog starts from idle with an informative talk about himself.
While talking, vision is checking if and how many people are listening to Roboy.
In case that is true, it switches to interactive talk, where Roboy tries to get to know it's interlocutor.
The user might also be asked to play games such as Akinator and Snapchat or do wild talk to a generative model.

To make interaction appear more natural, Roboy is now able display a wide range of emotions, which are triggered from dialog.
RESULTS
roboy can now…

PLAY GAMES
Such as Akinator & Roboy Snapchat Filters

the team
get to know the showmaster team
TEAM MEMBERS SS2018
Alona Kharchenko (Team Lead)
Daniel Lorencic (Agile Coach)
Christoph Killing
Julian Eyrich
Nina Fischer
Sebastian Riegelbauer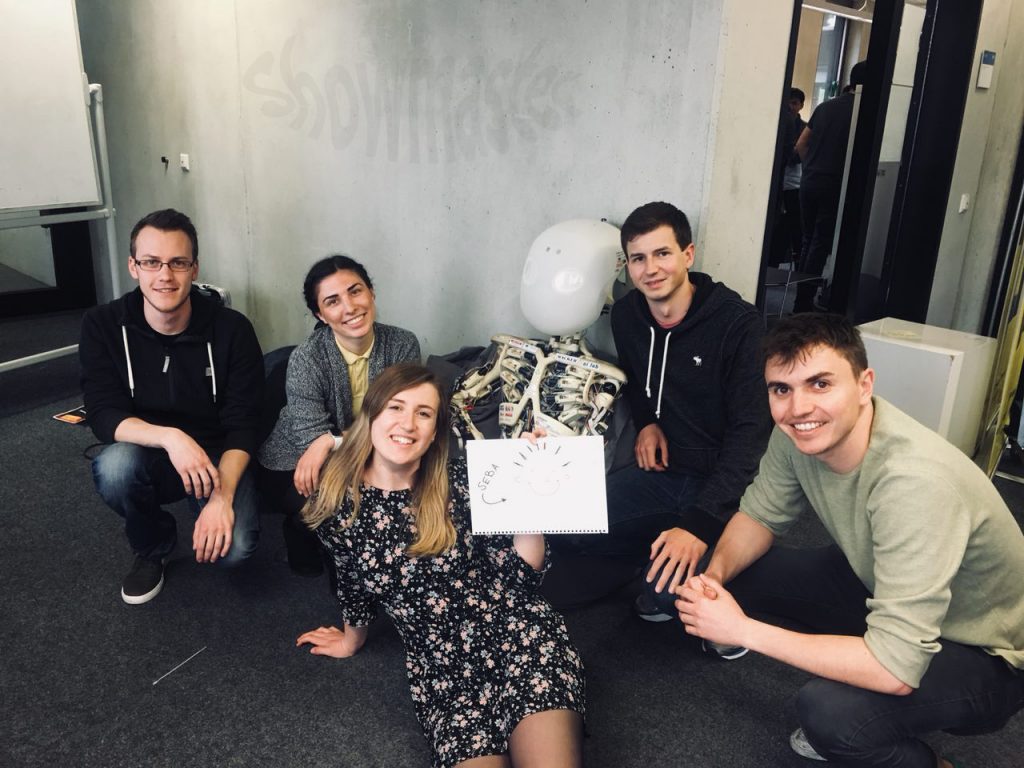 LINKS
cad files, documentations & presentations
WANT TO JOIN A TEAM?
get in touch with us