ROBOY 3.0
A SOLUTION FOR OUR FUTURE
WHAT WE BUILT 3.0 FOR:
unprecedented

times

Never have we lived in a more fascinating time. Every now and then, astonished by our advances as humanity, we catch ourselves on a thought "What a time to be alive!". At the same time, however, we're facing global societal challenges, from a pandemic, over an aging society, to an increasingly fast heating planet. The urgency is here, but luckily also the technology – it's thus time to apply it:

This is the beginning of a journey, where we use telepresence with Roboy 3.0 and the Teleportal, enabled by AI, robotics & 5G, to impact our daily lives – for the better of all mankind.
TECHNOLOGY IN 3.0
The robot:
Roboy 3.0
A completely new humanoid robot. More than an evolution from its predecessor, Roboy 3.0 redefines what it means to be a robot body. Such that once you enter it, you truly feel present – no matter the distance.
Completely musculoskeletal – the robot has muscles and tendons like humans do!
Friendly dynamic face – loved by millions for obvious reasons, simply friendly & cute
Custom developed muscle units – provide 300N of force, so the robot moves fluidly
Real-time control – bus-system with FPGA on motor boards & main control unit allow for complex control at hyper speed
Pybullet simulation model – to train the robot before breaking it
GPT-3 based dialog manager
The teleportation system:
Roboy Teleportal and more
A robot is only half the teleportation system, it also requires an intuitive operator control system: the Teleportal. We are building different systems at different fidelities, such that depending on the application – you can choose how to become a robot.
Upper body movement tracking – the operators position is tracked and mirrored by the robot for a truly immersive feeling.
Low latency immersive binocular vision – It's more than just seeing, we transmit stereo images at low latency – it's as if its your eyes.
Bidirectional audio sync – talk and hear through the robot, as if you're actually there.
Augmented perception in real-time

– why limit to human senses, when the robot can perceive more? Infrared, sound as vision and magnetic fields.
3.0's First Adventures
Roboy 3.0 had to wait 8 long month from birth to unveiling to finally do what Roboys love most: meeting new humans!
No wonder he used the last few months of 2020 to the max and traveled as much as the times allowed.
Um den weltweit menschenähnlichsten Roboter der Welt zu finden, müssen wir gar nicht so weit reisen – der heißt nämlich Roboy und wird in Garching bei München entwickelt. Aber was genau macht ihn so besonders?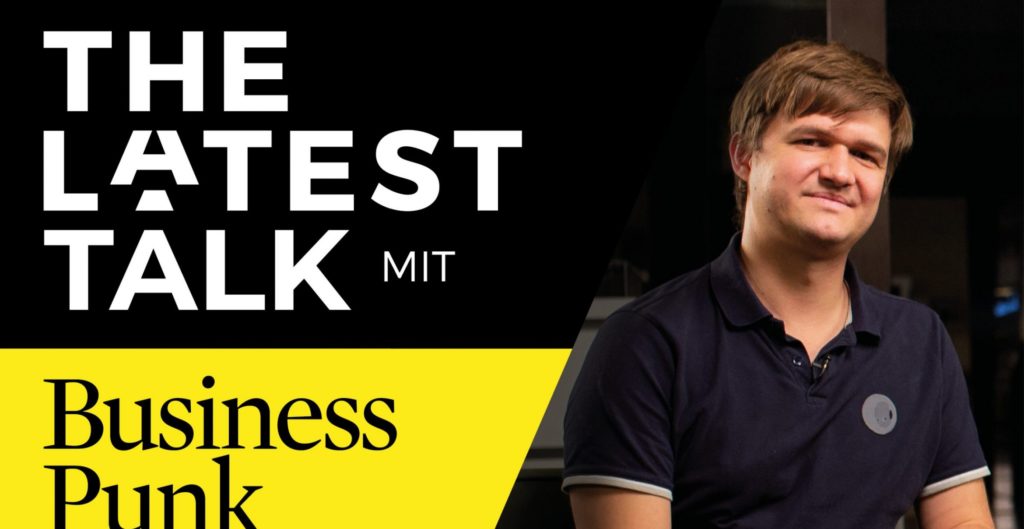 (In German only) German Business Life-Style Magazine with a Motto that Roboy fully subscribes to: "Work Hard. Play Hard." has interviewed Roboy Founder & Proud Dad on the Vision behind the Project. Gin-Tonic included.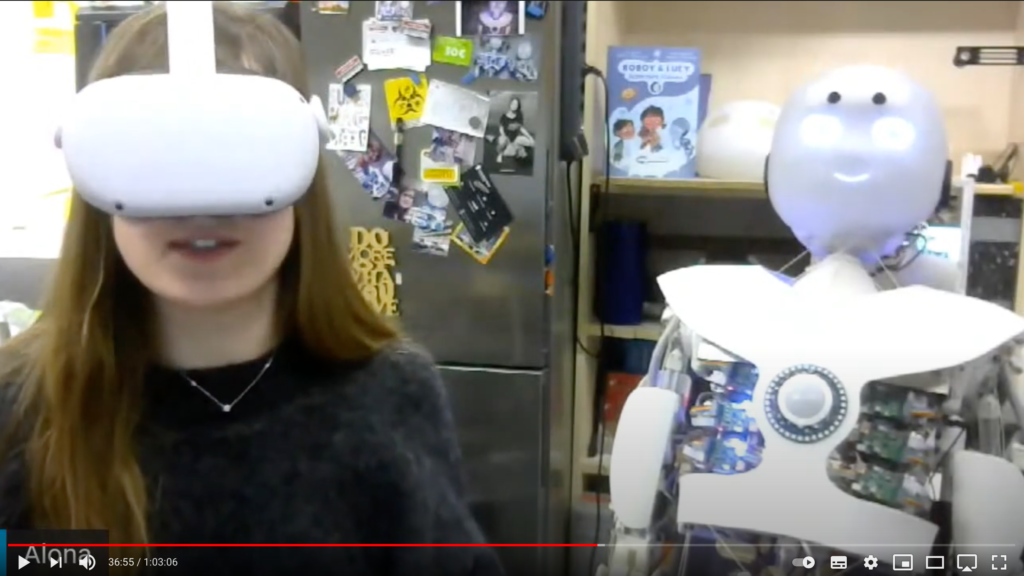 Coffee with ARM Developers. We discussed many different topics, such as: why build humanoids, what telepresence is, and the interesting concept of embodiment in the context of robotics. We then talked about Roboy itself, from the open-source tech stack to the vision behind it. All topped by a telepresence live…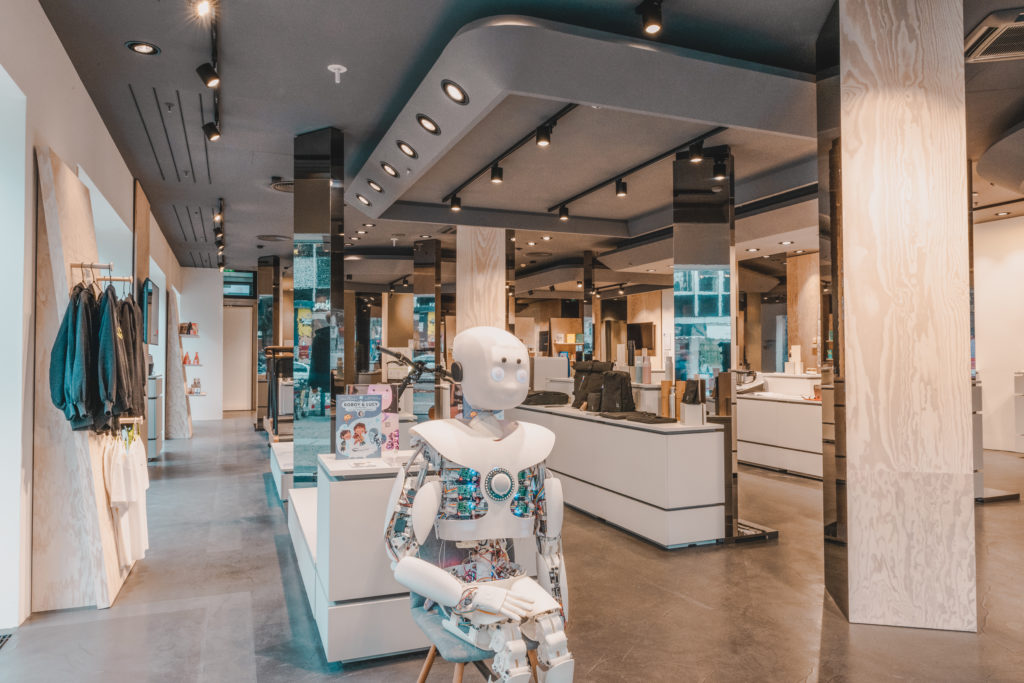 From 19. to 21.11. Roboy 3.0 became a sales man! In the newly opened The Latest concept store, where new products that are not available anywhere else are being showcased and sold, Roboy was selling its very own version of the german classic advent calendar and of course our Roboy…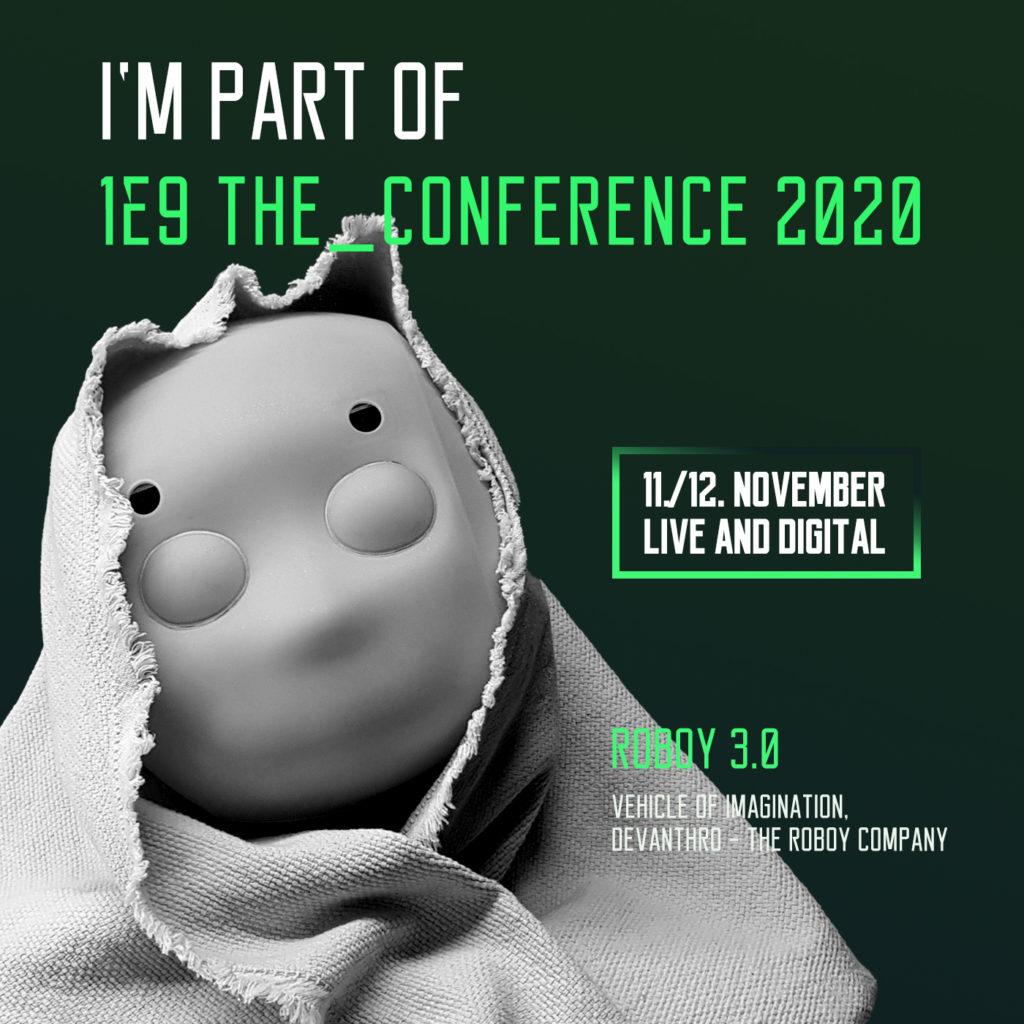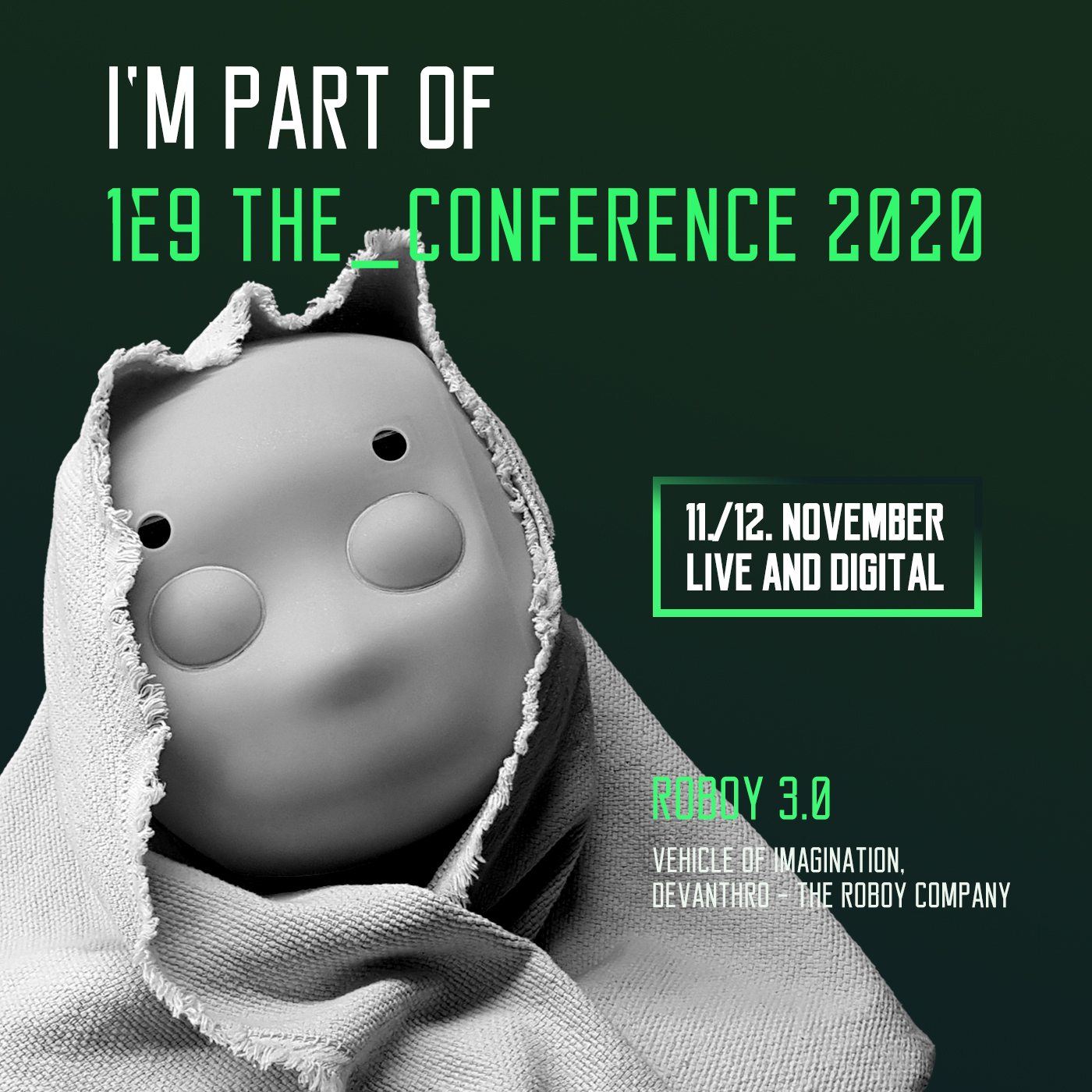 At 1E9 THE_CONFERENCE 2020, global thought leaders gathered to share their visions for A NEW HUMANITY. And of course Roboy needed to be there – because what if not a new humanity is our vision!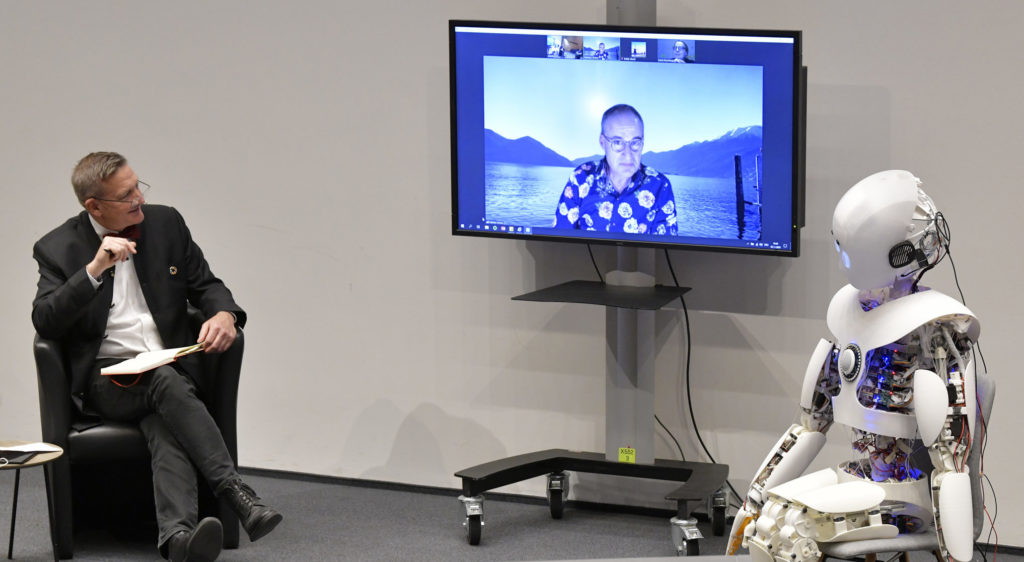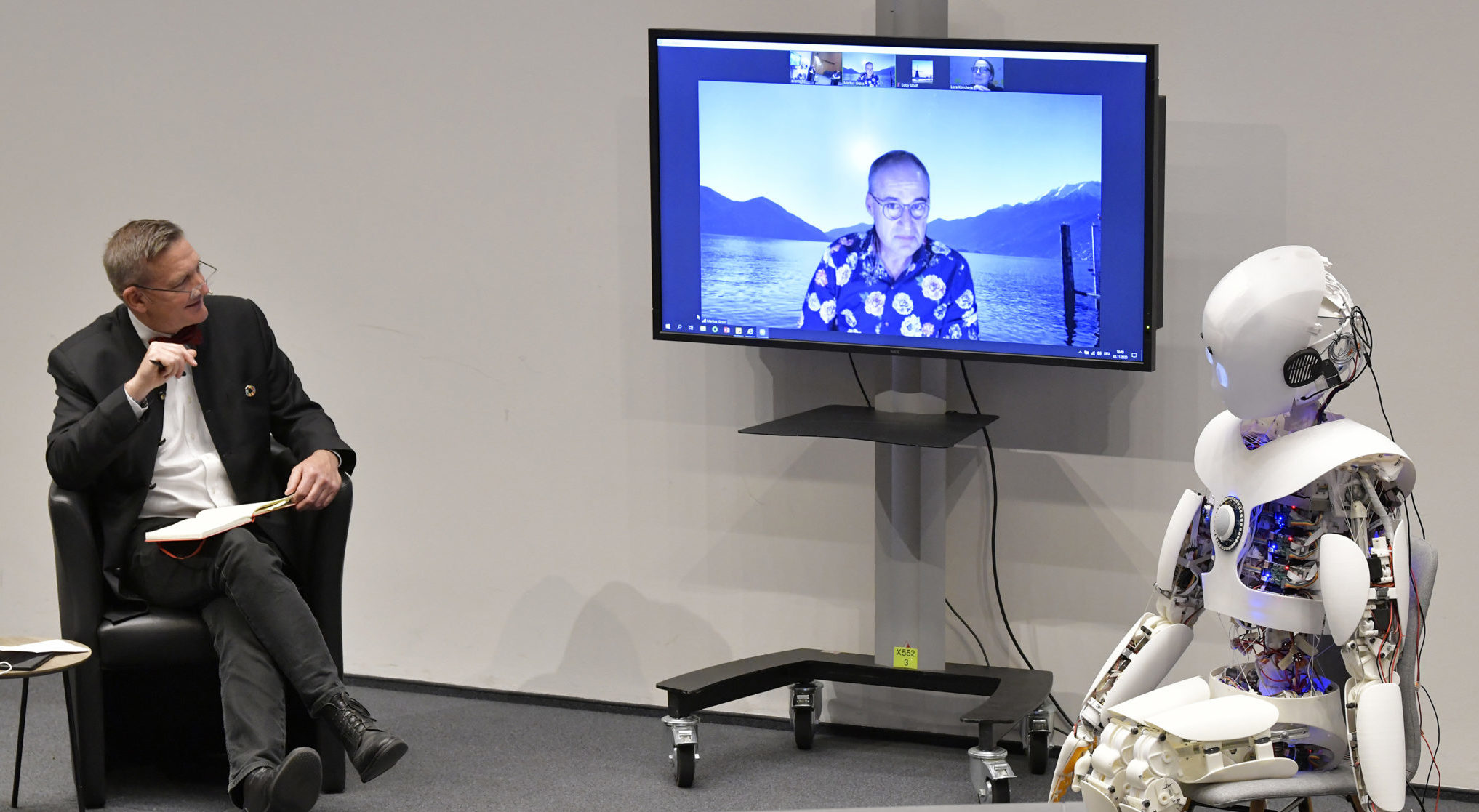 rETHinking Obstacles: Telepresence and Bridges to the Future A panel of unique perspectives – an anthropologist, a roboticist, and a scientist who will showcase how embodied telepresence robotics is already building exciting, unexpected, and unanticipated bridges. Brought together by Roboy, bridging space and time and teleporting Lora Koycheva from Munich to Zurich